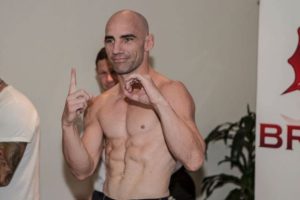 Kris was interested in martial arts from a very young age and has stated he has an early memory of watching a Bruce Lee movie around five years old. His mother grew up in Rabaul, Papua New Guinea and at that time she was heavily influenced by the large Chinese culture in the area at the time. His mother would often speak of her childhood friends playing with Nunchucks and practicing martial arts when she was a young girl. Kris fully believes that this nurtured his early fascination with martial arts.
Well that cool Tuesday night in July changed his life forever, although at the time he didn't realise to what extent. He ran outside the hall after the training and he was so excited he was probably speaking at a thousand words a minute in the car on the ride home. The second he got inside he had to show his parents what he had learnt. He was showing off kicks and punches, horse riding stance and of course pushups, showing his parents how many he could do. Probably the reason they are still such a large part of his training today, just ask anyone that now trains with him.
Although as a child Taekwondo would not have been his first choice in martial arts, at the time Kung Fu and Karate were much "cooler" options it was the only choice in a small town in 1985. In retrospect he wouldn't have had it any other way. This training in Taekwondo continued for most of his childhood with a few periods of time where he didn't train for many reasons including behavioural reasons. But there was always the calling to return to something he truly loved, even though at times he didn't realise it.
In 1986 Kris and his family moved to Mackay where he continued his training under his first influential Instructor, Steven Hayes. At the time he was a 3rd or 4th degree black belt and was the most powerful and skilled martial artist that Kris had ever seen in real life. This man instilled discipline and real work ethic in Kris and gave him someone to inspire to emulate.
Kris moved to Carmila in November 1988. If you have never heard of Carmila you wouldn't be alone, this town has a population of about 300 and if you blink driving past on the highway you will miss it. Highly fortunately Carmila had three sports/activities available to children in the area. These where; Basketball (which became another passion during his teen years), Touch Football and, you guessed it Taekwondo. This brought Kris to another influential Instructor Lionel Major. He became not only a great Instructor with an absolute passion for teaching but a close friend to Kris and his entire family.
1994 all of Kris's hard work and dedication payed off when he passed his 1st degree black belt examination. He waited until he was 16 so that he could attempt the adult test. He was expected to do all the same techniques and breaks as the adults including breaking two pine boards with several different striking techniques. The grading took about 3.5 hours and after many rounds of sparring Kris left with a black eye busted nose and a beautiful new black belt.
After this achievement Kris started looking for more variety in his training and started to try to learn of out book new techniques from Jeet Kun Do, Karate, Judo and Japanese Jiu Jitsu. At the age of 17 he moved back to Mackay and started training in Muay Thai.
He was so fortunate that his first instructor or coach was Stephan Fox, who is now Vice President of the World Muay Thai council. Kris met Stephan while looking for more martial arts literature and saw a basic gym out the back of the store. Stephan suggested that he try it out, and the rest as they, is history.
Kris continued to train with Stephan and met a lifelong friend in Johnny Borchardt. Johnny has gone on to win multiple titles and is now a very successful coach in Mackay at his own gym called Neung Muay Thai.
In 1999 Kris joined the Army and was posted to 2RAR in Townsville. The following four years would be a break from traditional martial training but focusing on the skills needed for an Infantryman in the Australian Army.
In these four years Kris achieved much within the Army including two operational tours to East Timor that included a period of Close Personal Protection (CPP) work with touring bands in the country. This was an exciting time protecting musicians that were popular at the time and consisted of; Killing Heidi, Groove Terminator, Something for Kate and Missy Higgins. He also had the opportunity to train with the United States Marines in Hawaii and be a member of Mortar Platoon (affectionately named Maggots) that he enjoyed immensely.
After that time in the Army Kris began training in various Muay Thai clubs around Townsville but none seemed to fit. He began working as a security guard on the main night club strip (only night club strip) in Townsville where he was directed to a gym called Dragon Dojo's in late 2003.
There he met another lifelong friend and martial artist Scotty Lindgren. Scotty was an excellent boxing coach and had some real skills in kickboxing as well. Kris and Scotty became friends quickly and Kris began helping to teach at the dojo and would take classes during the week. He began to really find his love for teaching and training and was enjoying the Dojo. He would train there most nights a week and was improving his skills in both the kickboxing and teaching.
Kris travelled to Thailand in 2004 with the International Kickboxer tour ran by the magazine with the same name and organised by Mark "The Hammer" Castagnini and Stephan Fox. This proved to be an amazing experience where he meet Thai Boxers from around the country and developed friendships with them and others from as far away as Canada. One of these Thai Boxers from Canada was a gentleman named Chris Bonde who, with his brother and some business partners owned and ran Muay Thai and Karate gyms in Alberta province, Canada called Arashi Do Martial Arts.
2005 Kris travelled to Canada on a working holiday and trained with Chris at his dojo and then accompanied them on another tour to Thailand to train.
Also at this time Kris had his first real taste of submission wrestling and Brazilian Jiu Jitsu (BJJ) at a full time Mixed Martial Arts (MMA) gym called Team Quest. At the time Team quest had the UFC Light Heavyweight Champion – Randy Couture as a founder and trainer at the gym. The gym was full of professional fighters that were on the roster of the UFC at the time. Kris stayed at a motel just across the road and trained at least three times a day in wrestling and BJJ and also watching the Pro team do their practices every day at lunchtime. Kris learnt in a month what most people would learn in their first year of training.
Upon returning to Australia Kris resumed training at Dragon Dojos and much to his delight there was a new instructor at the Dojo that was teaching BJJ. The instructor, Nigel Suckling was a blue belt from Dominance MMA in Melbourne and had moved to Townsville for work. Kris really enjoyed his teaching and learnt many great skills and techniques from Nigel that he still utilises today.
Early 2009 Kris was accepted into the Australian Federal Police (AFP) so he and his family moved to Canberra where he would live work and train for the next three years. Kris was very fortunate in his AFP career to experience many different paths that a Police career can take you. He spent time working as a General Duties officer, worked in a training team at the recruit college and was the only member of AFP Community Policing to be selected for the Operation Response Group (or for lack of better way to describe it, a SWAT team).
While in Canberra Kris made some lifelong connections with some very talented martial artists. He trained for most of his time down there at Phoenix Gym that was a great Muay Thai gym with many state champions. They also had a great MMA and BJJ program with Head Coach, Anthony Manning working very closely with Renato Rivera who was a Brazilian that had recently been promoted to Black Belt in the Gracie system. Both of these men taught Kris so much and he is forever thankful for the way he was treated from the first day in Phoenix Gym.
Kris moved back to Townsville in 2012 and started training with Craig Cruickshank. Craig has been a huge influence on Kris not only with the content that he teaches but in the way and approach to teaching. He is highly skilled BJJ player and experienced fighter in many forms of combat, but more than that, an excellent teacher. Craig is now a black belt in BJJ and is the Head Instructor at Infinity.
Kris continued to train with Craig and then the entire training group moved gyms to Dog Factory MMA (which does not exist any more) there he trained with Luke "Hellboy" Hume who became the major reason Kris started fighting professional MMA. He was training to be a good training partner for Luke as he always seemed to have fights coming up and no one to train with. The problem was Kris wasn't fit enough to train with Luke for extended periods of time. So the simple decision was to gain fitness and in doing so Kris realised that he too could train for his own fights while still helping Luke. Kris went on to compete in 11 professional fights.
Kris now brings this knowledge and personal experience to his students at Ronin Academy and has also committed himself to learning from Jock at the dojo and adding to his martial arts knowledge. He has also committed himself to his No Gi BJJ and hopes to take that skill to the next level and beyond.
More than anything Kris wants to help people find their full potential  in life and Martrial Arts and be the best leader possible be for all those that enter Ronin Academy.